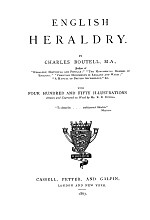 Titre: "English Heraldry"
Rédacteur: Charles Boutell, M.A.
Éditeur: Cassell, Petter, and Galpin, London and New York, 1867
The complete publication made available in digital format, online by the University of Michigen, USA. The book entitled "English Heraldry" includes 450 illustrations drawn and engraved on wood by R.B. Utting., Boutell, Charles, 1812-1877.
Prix: NA

Disponibilité:
online
Online - 347 pages, B&W illustrations